Caribbean Sea Squirts
Over one hundred species of Sea Squirts (Ascidiacea) have been recorded from shallow water environments in the Caribbean. The Compact Disc illustrates 59 of these species by means of photographs and four others by diagrams.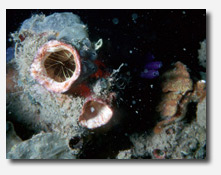 The photographs are of living animals most of them taken in their natural environment. Most of the pictures have been selected from a collection of photographs taken by Ivan Goodbody during his researches on the diversity of ascidians in the Caribbean. The project illustrates majority of known species at this time and certainly illustrates almost all the common species likely to be encountered by students or others exploring the shallow-water environments of the Caribbean. For each species illustrated there is an accompanying text describing the pictures and highlighting the principal characters which guide identification in the field. For most species the written text is supplemented by a vocal description recorded by Ivan Goodbody. Ascidian taxonomy depends to a great extent on internal morphological characters which can only be revealed by careful dissection and a pictorial record such as is presented here can only provide a preliminary guide prior to laboratory examination.
Review
"This collection will ensure that successive generations of students and others interested in the marine environment will have access to Ivan's knowledge of these mysterious and often beautiful creatures; and they will enjoy the very real satisfaction that comes from recognising the species and understanding something of their role and significance in marine ecosystems." - Dr. Patricia Kott - Queensland Museum.

About Professor Ivan Goodbody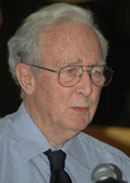 Ivan Goodbody, born and educated in Ireland, obtained an honours degree in Zoology from Trinity College, Dublin and later a Ph.D. degree from the University of Aberdeen in Scotland. His doctoral research explored the biochemistry and physiology of nitrogen excretion in Ascidians. He came to Jamaica in 1955 to join the staff of University College of the West Indies. Appointed Professor of Zoology at UWI in 1964 and first Director of The Centre for Marine Sciences in 1986.Currently Ivan Goodbody is Professor Emeritus in Zoology in the Department of Life Sciences. His interests are in marine biology and ornithology. He has published papers on bird biology in Britain and numerous papers on marine invertebrates especially on the diversity and natural history of ascidians in the Caribbean. He pioneered research on environmental issues affecting Kingston Harbour and other coastal areas (1965-75) and was awarded the Order of Distinction, Commander Class in the Jamaica National Honours in 1979 and was the recipient of a Silver Musgrave Medal from the Institute of Jamaica in 1974.

Mona Institute of Applied Sciences
The Mona Institute of Applied Sciences (MIAS) is a not-for-profit affiliate of the University of the West Indies, working interdependently with the faculty of Pure and Applied Sciences. MIAS was established in 2001 as a bridge between the university and industry, providing goods and services in response to the determined needs and demands of markets throughout the world. MIAS is governed by a Board of Directors, which is chaired by Ms. Mable Tenn, and headed by an Executive Director, Dr. Howard Reid.
MIAS aims to provide first-class technical services to a worldwide market through the expertise of the faculty and resources of the UWI. In fulfilling its mandate, MIAS has taken a three pronged approach: Projects and Research, Academic and Professional Training and Analytical Services.
Contact Information: Mona Institute of Applied Sciences, 4 Belmopan Close, University of the West Indies, Mona Kingston 7, Jamaica, Telephone: (876) 970-2021, (876) 970-2042, E-mail: mias@uwimona.edu.jm,
Fax: (876) 970-0289, Website: http://mias.uwimona.edu.jm/